No matter where you live, it's fun to get into the Halloween spirit with some decorations. The kids might technically be coming for the candy, but they'll be even more excited to come up to a home that's spooky or silly.
How far are you willing to go to create the right mood for the night? Our ideas range from simple to complex, and you're sure to find something that fits your personality.
The Classic Graveyard Scene
There's nothing cliché about putting up a graveyard scene in the yard. It's popular for a reason. Create a few tombstones for the yard, and put some funny names on them like, "Diane Rott" or "Barry M. Deep". If you'll be keeping them up throughout the month of October, you want to use a sturdy material like wood or styrofoam along with a paint that won't wash away in the rain. You can also purchase these tombstones at many Halloween stores.
Want to make your graveyard super creepy? Have skeleton hands sticking out of the ground and use a fog machine to create some ambience.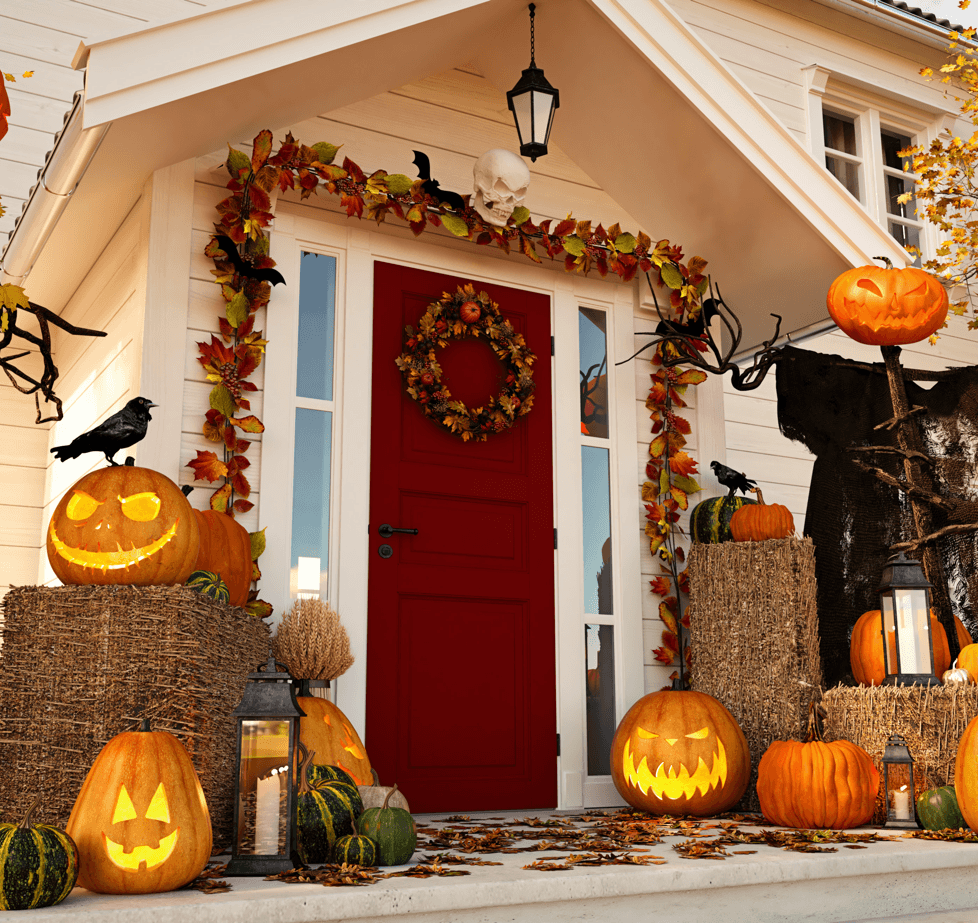 Not-So-Scary Decorations
If you live in a neighbourhood that has a lot of younger children, you may not want to choose decorations that are too scary. It's not as fun to pass out candy when the kids are crying because you've scared them. Create a row of jack o' lanterns with friendly faces leading kids up to the door. Perhaps have a smiling scarecrow sitting on the porch next to a cute black cat. You can also purchase decorations that use popular characters like Mickey Mouse.
Blow-Up Decorations
If you want to decorate for Halloween, but don't want to go through a lot of trouble, the large airblown inflatables are the right choice for you. They range from cute character-themed versions to spooky styles, and they're readily available at retailers like Walmart. Sometimes, you can even pick one up at a thrift store for a lot less. All you have to do is put it in the yard – don't forget to anchor it – and turn the power on. Let the air do the rest!
Fun or Scary Lights
Light the way with an easy DIY craft. Take milk jugs or clear plastic bottles, then paint Halloween-themed silhouettes like pumpkins or witches on the outside in black. Use stickers if you don't trust your artistic skills. Then, fill the bottle up with water, put a glow stick inside and watch as it casts an eerie glow.
Another fun idea is to cut eye shapes into old toilet paper rolls, then place a glow stick inside that. Put it in the bushes. Once it gets dark, trick-or-treaters will only see glowing eyes peeking out from the bushes.
Spooky Porch Decorations
The porch is the perfect place to create a spooky scene. Spread fake spider webs all over the porch. Don't forget to put a few plastic spiders in the webs. You could also put a witch's cauldron on the porch – maybe something with dry ice and glow sticks so that it looks like a real potion is brewing. It could also be fun to put cardboard "planks" over the windows to make it look like the house has been abandoned. It will look more like a haunted house.
Creepy Ghosts
Halloween wouldn't be complete without a few ghosts. You can make your own ghosts easily with balloons and a gauzy white fabric. Simply drape the fabric over the balloon, and put a face on the ghost using black paint or black duct tape. Hang the balloons from the trees in your front yard or on your porch.
Those who want to take things a step further should check out these human ghost instructions at the DIY Network. They show you how you can create a more realistic, human-shaped ghost if you're willing to put in a bit of extra effort.
Classy Decorations
Perhaps things like ghosts, witches, and other scary things aren't really your style. Don't fret. Choose decorations that have a classier look. For instance, you could put a nice autumn-themed wreath on your front door, drape some garlands made from colourful leaves along the porch railing, or put an arrangement of pumpkins by the door. Check out craft stores or big box stores because they often sell decorations like these throughout the season.
Halloween is one of the most delightful times of the year. Everyone has the chance to feel like a kid again. Decorating your home just adds to the spirit of the season.
{{cta('396afe6d-eb66-4f0c-9685-6de24a904aa0′,'justifycenter')}}