Your home is so much more than just a place for you to sleep and eat meals. A home is a place that feels warm and welcoming to everyone. Memories are made in each room; times of laughter and tears and joy shared with friends and family.
As such, one important thing to consider when finding a home to buy is making sure you'll have enough space for hosting family and guests.
How Many Bedrooms Will You Need?
Start off your search by making sure you'll have enough rooms for everyone. If you are looking at a home that has not been built yet, review the floor plans carefully and view a showhome with the same layout if possible.
If you're a:
First-time buyer: consider the number of people that will need their own room, whether that's your kids or a roommate to help out with the mortgage payment, look for a floor plan with a flex space or a third bedroom. We'd recommend a flex space if possible, as it gives you more options for what you can do with it.
Move-up buyer: how many children do you have, or plan to have? Are they sharing a bedroom right now and do you want them each to have their own room? Are there toys all over your living spaces? These kinds of questions will help you define the amount of space you need in your new home. For example, an extra bonus room just for the kids means you can keep your main living space clutter-free.
Having elderly parent move into their children's homes for care is a growing trend in Canada. If this is something that could be a reality for you in the next five years, you'll want to consider this as well. A separate basement suite for your parents could be the option you're looking for.
Downsizer: whether you want to downsize because the kids have all left the nest or you're starting over after a split, your needs will have dramatically changed from what you've been used to. This is the perfect time to clearly identify what it is you need, from scaling back on the number of bedrooms to determining if you want to live a lock-it-and-leave-it lifestyle.
Rooms for the Rest of the House
Always consider your lifestyle when searching for a new home. If it won't provide the functional space needed to live your life, it won't be much good to you.
Think about extra space you'll need for any of the following reasons:
A home office for those who work remotely, or in the evenings
An extra room for a roommate or overnight guests
A playroom for the kids
Room for a home gym or games room
A cozy den or home library for the book lover of the family
A crafting room
A formal dining room
and more…
Realistically, the possibilities are endless. It really depends on what you need. But planning for these "extra" living spaces in advance will save you a lot of headaches. The last thing you want is to have to move again in just a few years because you don't have what you need, no matter what kind of buyer you are.
A first-time buyer may prefer to have a home gym set up, while a family moving to a larger home wants to turn their bonus room into a playroom.
Space for Wining and Dining
Do you often host parties or family get-togethers? Whether it's having the family over for a holiday meal, an outdoor barbecue with friends, or your child's birthday party, so many memories are made in your dining room, kitchen and living room.
When looking at these common areas in a new home, always consider whether the space will function the way you'd like it to:
Do you like the layout of the kitchen? If not, is it something that could be changed easily?
Is the dining area large enough to seat the number of people you will typically host for a meal?
Will your guests have enough space to socialize in the living room or would they be packed in there like sardines?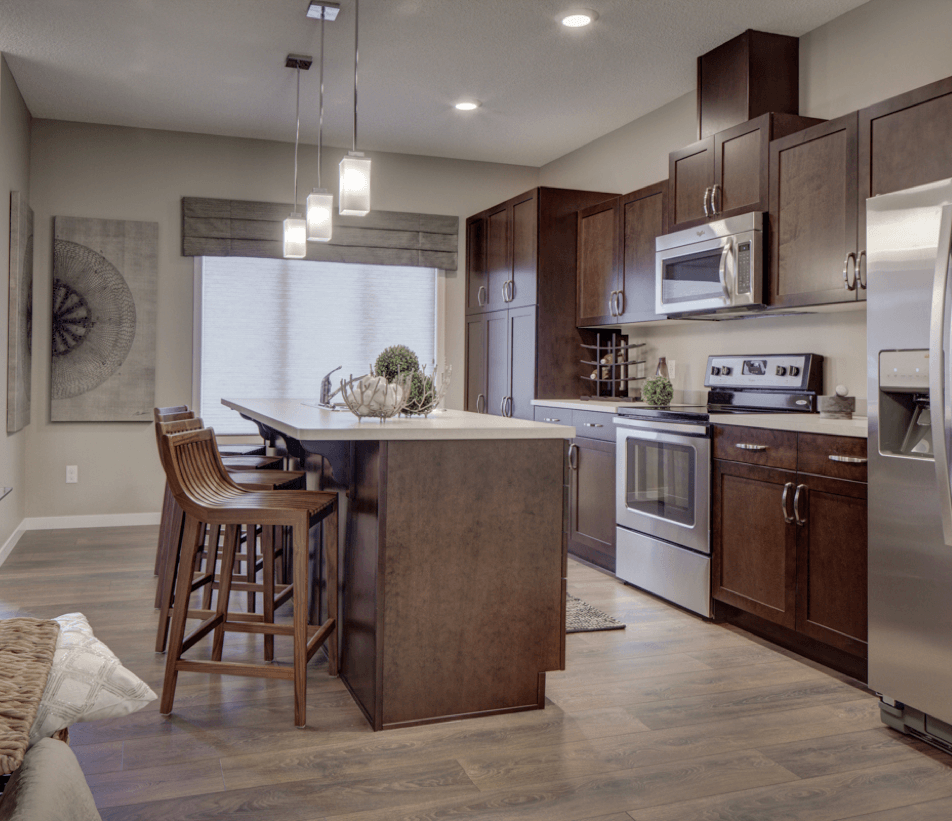 Answering these questions is key when it comes to hosting company and creating a home that is a social gathering place. Some other ideas to keep in mind include a large kitchen island – it's good for food prep and doubles as a place to set snacks when the party is in full swing. Or, as we mentioned above, a separate formal dining room to add a layer of elegance to your dinner parties.
One more thing if you're the entertaining type – check closet space, especially in the front entry. Then you can avoid the bed covered in jackets situation, and guests searching through everyone's things to find their own.
Enjoying Your Outdoors
While a Canadian winter can sometimes feel like an eternity, Edmonton does benefit from fabulous weather during the summer months. When considering living spaces in your new home search, remember to look beyond what's just inside the home.
Ask and answer these questions to help you figure out how much space you'll need outside your home:
How much time would you spend in your backyard?
Do you want a back deck or patio for relaxation and entertaining?
Do you have small children that will need a secure space to play?
Do you plan on planting a garden? If so, how large will it be?
Would you like an outdoor fireplace? Bar? Grill?
On the flip side, maybe you'd prefer to be out in the front of your home. Do you need a porch with room to sit outside and people-watch? Do you need space for flowers? Will the kids be playing out there?
Don't leave the outdoor space as an afterthought – including it in your home buying decision will give you peace of mind once you decide to buy.
Is the Space Functional?
Purchasing a home is the biggest investment you'll make in your life, so make it count. Make sure that you not only have enough space but that it's the right space to meet your needs and lifestyle. In looking at each new home with this overall purpose, you can be sure that your new house will truly feel like a home.
Originally posted April 5, 2016, updated February 1, 2019.
{{cta('16bab9fc-a368-4e06-9226-c6e0d7f29b9c','justifycenter')}}