The process of choosing the right home builder is an important step towards creating a home you'll enjoy for years to come. That's why it's important you take some time to do proper research that will point you in the right direction. Luckily, we have some proven and effective tips you can follow to ensure you find the right builder for your unique needs.
Look For Experience
Expertise is the order of the day. It's best to start by looking for a well-established builder with several years experience in building homes.
Keep in mind though, the age of the company does not completely guarantee experience. A builder may be new but have an extremely experienced staff.
Know What You Want
A serious home buyer will know what they want in terms of size, price, and type of house. There are plenty of home builders in Alberta that offer a wide array of home designs and styles.
However, some builders specialize in specific types of homes. If you want the best builder within your price range who offers what you're looking for, you need to consider your options ahead of time for the best outcome.
Tour Show Home Models
Getting an overview of the builder's work will make a huge impact on choosing the right company for the job. Make a shortlist of builders you really think can do a good job and create a list of their showhomes that feature floor plans and designs you're interested in.
By touring and compare their works based on what you want, taking a look at the quality and standards, you can get a good feel for the builder. Pay attention to the look, materials used and the overall quality of the house.
Ask Lots of Questions
Don't be shy! The best way to get a feel for the quality craftsmanship and customer service you can expect with a builder is by asking important questions that are on your mind.
Do your homework online and research top builders in Edmonton and fill out an inquiry form for homes you're interested in. Find out which communities they build in and take a trip out to the show homes that pique your interest. It is here that you will be able to take your questions one-on-one with a knowledgable Show Home Area Manager. Some builder websites may also have an online sales concierge where you can ask some more preliminary questions before heading out to a show home.
Now, you may be wondering what types of questions you should be asking. That is really up to the individual buyer and what matters to them when deciding on who is best to build their home. With that said, here is a quick video with some common questions that can help you in your search.
We've also gone into more detail below on other great questions you'll want to be asking Edmonton builders as you narrow down your options and find your best fit.
How long does it take to build a new home?
This is a common question and one you'll want to ask. It's important to know the time frame you can expect with your new build, so you can begin planning around it for a smooth transition.
If you're in a time crunch, look for builders with plenty of quick possession homes in their inventory. These homes are built with the most popular features and floor plans, and some are move-in ready. Others will still allow for some final feature and finish selection for you and will be ready within a few months.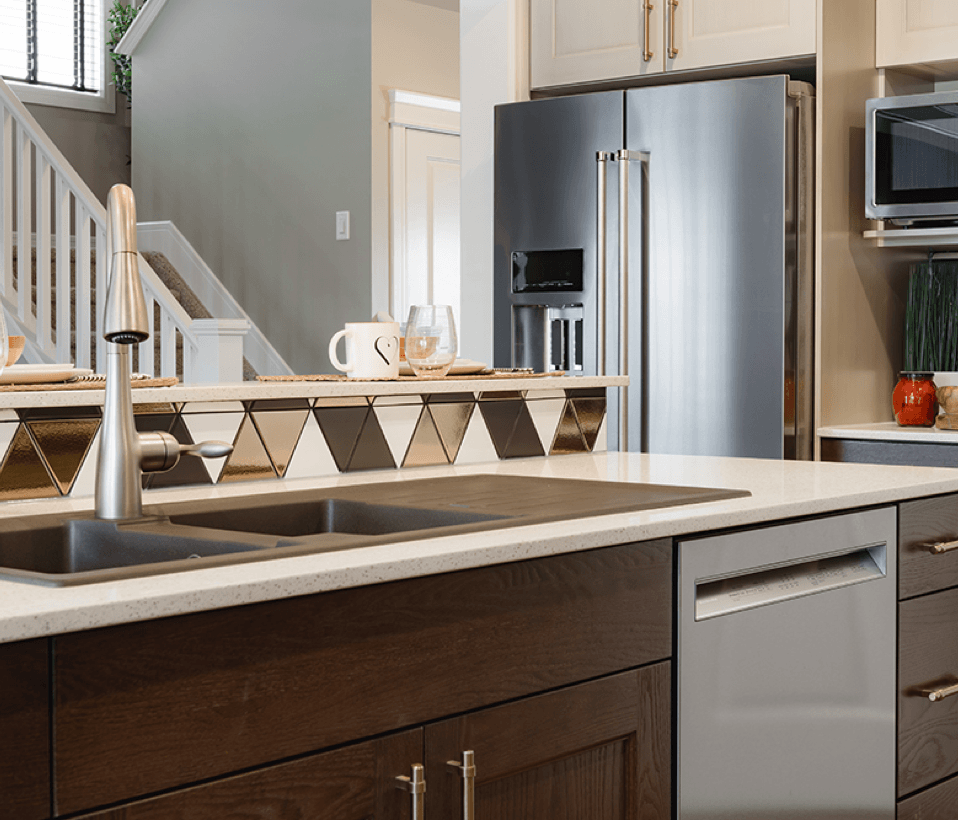 What comes standard, and what will be considered an upgrade?
This is another very important question, so you can go into your new home purchase with the right expectations. Some builders may offer features that come with the standard build price of the model you want, while other builders consider them an upgrade (something you will pay extra for). Get into the little details with the builders you talk to so you know exactly what is included.
Do you have any promotions or offers running right now?
You can get some great deals if you pay attention to builder newsletter and follow their social channels. Look around and see if anything stands out to you. Sometimes, builders will slash prices by tens of thousands if they have excess inventory on quick possession homes. Their sale is your gain, especially if they have models you've already looked at and really like.
Other promotions that are common for builders included free landscaping, free upgrades, appliance packages, and more!
Do you have a preferred lender I could use?
Often times, a builder will have a preferred mortgage lender that has done many new build mortgages for them and can lock in the best rates. They will also be there to ensure there are no delays with paperwork during the phases of your home build, for both you and the builder.
Ask Previous Clients
If you want to get the most accurate information, we recommend you independently contact previous clients to get an honest view of the home builder(s) you're interested in.
Start by performing a Google search to look at independent homeowner and employee reviews. Input from former employees is good to take into consideration as they will have valuable insight into the builder's practices.
You can also take a look at Avid Ratings, where all of the information is verified for authenticity and validity. Businesses can NOT pay them to remove or alter a review and each one that comes through an extensive inspection.
If you can, talk to an existing homeowner who can share their experience with the builder, both before and after the build.
Look for a Design Fit
A specific design done for someone might not please another person. Therefore, a builder has to be flexible enough to satisfy each customer, all of which come with different desires and preferences.
To that end, find a home builder that will work with you, rather than one that tries to get you to fit what they want.
Warranty and Services
When you interview any builder, you need to find out what warranty coverage will be offered on the home ahead of time. Although home warranty coverage in Alberta is mandatory, some builders may provide a more extensive warranty package than others.
The builder should also guarantee after-sale services. You should be in a position to ask them to explain their after-sale policies and what you can expect from them.
Check Their Industry Involvement
A good builder will interact with well-established competitors. Therefore, ensure your builder is involved with the local building associations such as the Canadian Home Builders' Association Edmonton Region (CHBA). Such memberships show that they are strongly committed to delivering quality and timely services to their clients.
By following the tips above, you will be able to pursue a builder for your home with confidence. Knowing what to look for ahead of time will not only lay the foundation for a smooth journey, it will also ensure you get the home you've always wanted.
Originally posted June 10, 2016, updated February 26, 2019.
{{cta('577bbec6-fc98-44df-b74d-1af2de25082e','justifycenter')}}