Canadian winters are definitely short on sunlight. Near the solstice the sun's shallow arc across the southern horizon is usually just enough to beam straight into your eyes on your commute to and from work.
But, all of that winter darkness does give us the opportunity to think about how we deal with light inside our homes. From the bedroom to the dining room and the kitchen you can use light to dramatically change the feel of a room.
So, with the sun slowly starting to spend more and more time in our northern skies, let's dive into some 2020 trends and topics that can help you add some light to your life.
The Bedroom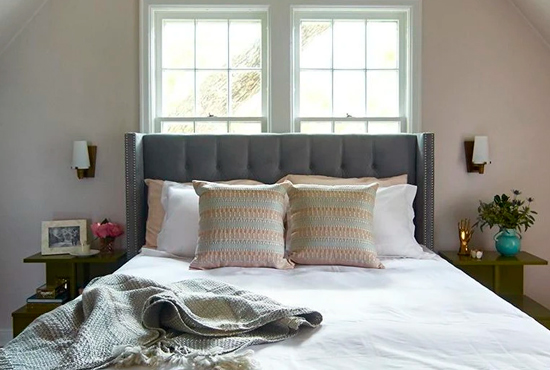 Multiple light sources
The bedroom has to serve a lot of purposes. As the space you get ready for the day and wind down for night, the lighting needs to accommodate a variety of situations.
With that in mind, think about how all of your lighting sources work together. From the natural lighting you'll get through the windows during the day, to the overhead and bedside lighting you'll want during the darker hours, everything should complement one another.
Bedside lighting should provide the soft lighting you'll want when waking up and drifting off, but overhead lighting should provide the brightness you need when getting ready for the day in the hours before the sun comes up.
Pendants or wall sconces to save space
Bedside lighting is very important for the bedroom, but sometimes lamps can take up a lot of space on bedside tables.
Two interesting alternatives are pendant lighting or wall sconces. Both give you the option of having a soft light right next to the bed without taking up room on your night stand.
Pendant lighting can be found in a variety of colours and patterns that range from bold to simple, allowing you to treat the lighting as either an accent piece or a subtle accessory.
Wall sconces are also available, but can seem like a more daunting installation if you don't already have the proper wiring in your walls.
Luckily, there are inexpensive options for wall sconces that simply plug into your nearest outlet, allowing you to enjoy the convenience of the sconce without having to cut new holes into your walls.
The Kitchen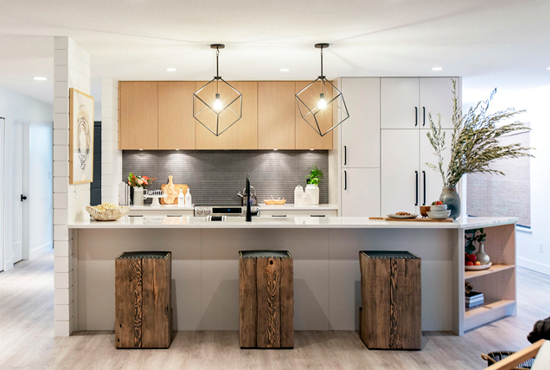 Recessed
Recessed lighting will provide your kitchen with a more open feel, as you'll maintain the clean uninterrupted lines of your ceiling. The challenge is that you'll need to ensure there's adequate space above your ceilings for the lights to be housed.
Recessed lighting continues to be a popular choice this year, as it offers excellent functionality and can be well-distributed throughout your kitchen space.
Surface
Surface lighting still sits close to the ceiling, but allows you to add a little more flair and interest. While surface lighting took a backseat to recessed lighting for the last few decades, it's starting to see a resurgence.
Because surface lighting maintains the integrity of the ceiling it creates a more efficient system.
Pendant
Pendant lighting can be used as a design element or focal point to your kitchen to a much greater degree than recessed lighting. With a variety of options trending in 2020, including tube lighting, basket textures, and warm metal finishes, there are undoubtedly pendant options that would work with your kitchen.
The Dining Room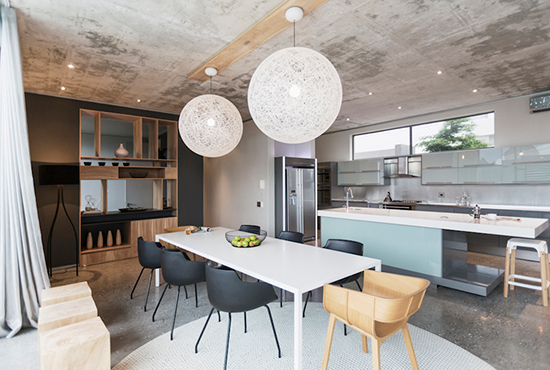 Go big
Large, oversized fixtures are still popular in 2020, and can make for an impressive accent piece above the right dining room table.
These types of statement lighting fixtures do especially well in rooms designed with a modern aesthetic, as they offer a counterpoint to the otherwise clean lines of a space.
Large geometric shapes, oversized wicker pendants, and exposed industrial treatments all offer plenty of interest.
Modern chandeliers
Modern chandeliers have gone well beyond the crystal-heavy fixtures of the past. Today there are loads of options to suit anyone design style.
The chandelier offers a much more impressive design element to the room and you'll need to ensure you pair it with an appropriately sized dining room table.
It's also important to note what kinds of shadows your chandeliers will cast. With some of the more eclectic designs and geometric patterns, the light can cast some less than flattering lines throughout your room.
Lots of bulbs
As more lighting options become available more blubs are being incorporated into the mix. In 2020 you'll see lots of lighting options that lean on fewer lumens per bulb to cast an attractive diffuse glow.
This trend can be seen in more industrial fixtures, as well as several of the tube shaped pendants in the market today.
As a contemporary option, these new takes on pendant lighting can be a very attractive and very noteworthy addition to your home's design.