While the summer weather is finally upon us in Edmonton, and kids will soon be released from the home schooling experiment thrust on most of them due to COVID-19, parents face a new challenge. What to do to entertain their kids while still taking physical distancing measures to ensure everyones' safety? With the City of Edmonton and other organizations announcing the cancellation of their day and overnight programs and festivals such as K-Days being cancelled, there are fewer options.
But thankfully we live in a world-class city where there is still so much to do with your kids. To help you out, here are 25 things to keep your kids busy this summer while supporting physical distancing.
Note: These activities were available when this blog was published. Be sure to double check availability before hopping in the car.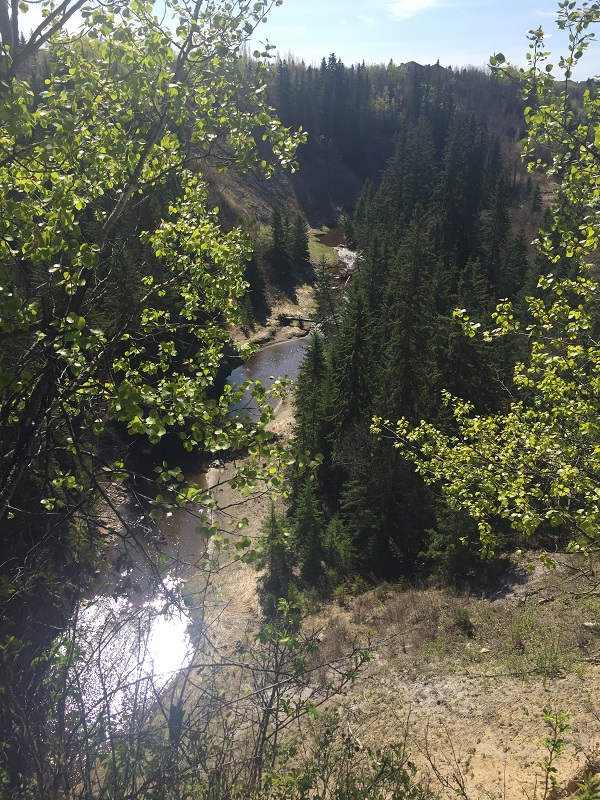 Go for a hike in McTaggart Sanctuary. It's located in Southwest Edmonton, but you wouldn't know it from the natural trails and beautiful scenery.
The Citadel Theatre will continue to run its summer camp program, but with changes to allow for physical distancing. Small classes available for youth and teens!
The Winspear Centre is also hosting small summer camps (10 people) where your kids can learn the ukulele, miniature harp or violin.
Edmonton Public Schools is offering day camps online. Kids could attend sessions such as Comic Book Camp, Improv Camp, YouTube Content Curation and many more!
Your kids are climbing the walls? Maybe they'll enjoy a Ninja Day Camp.
The Royal Alberta Museum is open – but you'll have to book a timed entry so they can ensure the museum doesn't have too many visitors at once.
While you're at the RAM, you might as well schedule a visit at the Art Gallery of Alberta that is just down the street.
Fishing is a fun activity to do with your kids in Edmonton. Consider taking them fishing on the North Saskatchewan River or at Hermitage Park. Be sure to purchase your license first.
Your kids can learn to survive on Mars or code video games. The TELUS World of Science is hosting virtual summer camps from July 6 to August 28.
With Virtual Day Camps being available to anyone, why limit your kids to ones being run in Edmonton. They can literally participate in a day camp from anywhere. Check out these options.
If you have a kid that loves to feel the wind in their face, a Pedalheads bike and trail camp might be the perfect option.
Enjoy the beauty of the University of Alberta Botanic Garden. The garden is open to visitors by reservation only, so be sure to reserve your spot before to plan your visit.
Visit the Cooking Lake Blackfoot Provincial Recreation Area in Strathcona County and enjoy over 50 different trails. Great for a hike or a bike ride.
Looking for a fun evening activity? Visit the Neon Sign Museum.
You'll still be able to visit the 350 animals at the Edmonton Zoo, but with restrictions to support physical distancing.
Some mini attractions at West Edmonton Mall are beginning to open, including the Ice Palace, mini golf and bowling. Great activities for a rainy day.
Join the Virtual Canada Day Celebration on our country's birthday!
Float down the North Saskatchewan River – all you need is some life jackets, a canoe or some inflatables! Start in Devon's Voyageur Park and end where it's convenient for you.
Did you know Edmonton's River Valley has 160 km of trails? Discover some this summer!
Enjoy a picnic in a city park. While reservations for big groups have been cancelled, picnic sites in Edmonton parks are available or casual use by groups of 50 people or fewer.
Everyone enjoys a treasure hunt! Geocaching is a game where you use GPS coordinates to find a treasure (albeit a small one).
Don't feel like leaving the house to go to a museum? There are a number of museums, zoos and aquariums all over the world that are offering free virtual tours of their exhibits! Travel the world without leaving the house.
Go shoot some hoops! Schools are closed, but their outdoor basketball courts are available. To support physical distancing, play games like HORSE or 21.
Produce an at-home movie with your young kids. Work on writing a rough script together, find costumes, record and edit your scenes. For more enjoyment, dress up and have a movie premiere with popcorn.
Consider doing a sidewalk chalk art project with your kids. Leave encouraging words for your neighbours or just draw something fun!
This summer will certainly be different than ones Edmontonians have experienced in the past. However, these activities will keep your family busy and safe, all while supporting physical distancing as we all do our part of stop the spread of this virus.
{{cta('bc13fff9-06a5-4a00-840e-e1dc7bad40a3′,'justifycenter')}}