Qualico Communities has two new communities developing in West Edmonton, Edgemont East and The Uplands at Riverview.
Both communities offer new home buyers beautiful neighbourhoods to start putting down roots. Let's explore what each of these communities has to offer!
Edgemont East

Located adjacent to Lessard Road and 199 Street NW, Edgemont East provides residents with easy access to the amenities of West Edmonton, as well as easy access to the rest of the city through its quick access to the Anthony Henday.
Single Family Front Attached Garage and Duplex Front Attached Garage Homes are both available to buyers interested in Edgemont East. Seven stunning Showhomes from five different Home Builders are open to help you choose the model that's right for you.
If time is of the essence, several Quick Possession Homes are available to have you calling Edgemont East home as soon as possible.
The nearby shopping centre of Hampton Terrace provides the daily amenities required, and the neighbouring centre, Edgemont Landing, will soon be home to a grocery store, thereby ensuring all a household needs can be found a short walk from home.
This is a wonderful new community to make moments, make memories, and make fun.
---
The Uplands at Riverview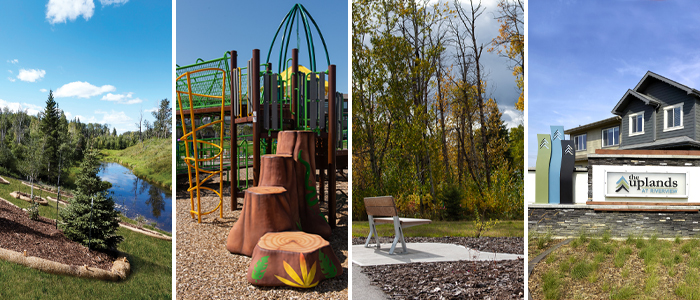 The Uplands at Riverview is an ambitious new project that's bringing community to West Edmonton and offering it's residents:
Accessibility
Just 5 minutes from the Anthony Henday, life in The Uplands can quickly transport you to the rest of West Edmonton's many amenities, or anywhere in the city you want to go.
Close to nature
The Uplands has been built in harmony with the natural world that surrounds it and comes up against Wedgewood Creek and its environmental reserve to the west. On your walks through the community's trail system you can watch as the creek ebbs and flows through the seasons.
Pollinator Corridor
The utility corridor to the north of the community has been repurposed as a pollinator corridor complete with flowering shrubs and plants to provide a habitat for wildlife, protect water quality, and reduce the need for spraying and mowing maintenance.
There's also a nature-inspired passageway under 199 Street that serves as a designated wildlife crossing, allowing the neighbourhood's wilder residents to move freely, and safely, around the community.
Inclusive Playground
The community playground at The Uplands has been designed using the seven principles of inclusive play: fair, included, smart, independent, safe, active, and comfortable.
The playground is a beautiful environment for children to be themselves, explore their physical limits, and make new friends.
Lots of Home Options
The Uplands is full of choice. With six different Home Styles available from 12 reputable Edmonton Home Builders, you won't have to compromise. From Townhomes to Duplexes, Single Family Homes, and Executive Homes, there's something for everyone at in The Uplands.
These two growing West Edmonton communities have so much to offer, access to nature and the city, choice in Home Styles and Home Builders, and, most importantly, a thriving new neighbourhood to grow with. Make sure you visit both community's websites and sign up for updates to be the first to learn about what's happening in this growing region of the city.
Explore The Uplands at Riverview