As the new year begins, It's a great time to take stock, reduce clutter and say goodbye to items you no longer need. Here are some simple organization tips for the rooms in your home.
Family Room
Whether you call it a family room, living room, great room, rec room or den, this is where the action happens. Here's how to make it a fun and functional space for the whole family:
Find strategic storage spaces to keep tables and other surfaces clutter-free. Choose an ottoman or bench with a hinged seat and storage space inside. Or, slide a stylish basket under a side table to hold books and magazines.
Group items by category (such as movies, games and toys) and store them neatly in baskets or on shelves. To avoid the dreaded "lost remote" phenomenon, choose a designated space for all remote controls when not in use.
Every evening, do a quick sweep through the room to reset order and pick up loose items. This way, you'll be greeted by a tidy space in the morning.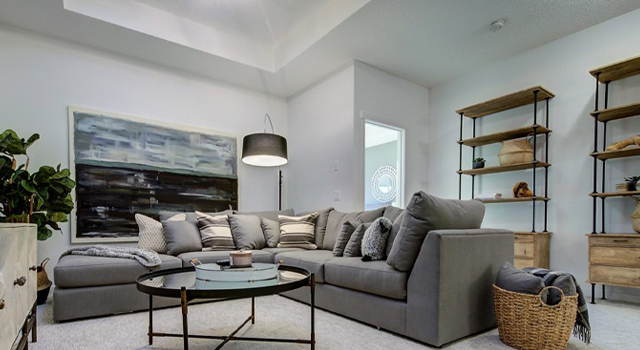 "Harmony A" Showhome by Sterling Homes in Crimson in Creekwood Chappelle, Edmonton
Kitchen
A kitchen will naturally have a lot of "stuff" in it, including appliances, gadgets, and accessories. Keep the situation under control with these strategies:
Keep the countertops clear as much as possible. Use corners for smaller appliances (i.e. toaster, kettle or air fryer). Reserve counter space for kitchen items only, and choose another spot for mail, keys, and electronics.
Be disciplined about adding new things to the kitchen, and evaluate unused items based on a specific time frame. For example, if you haven't used something in a year, does it really deserve prime placement in the cupboard?
Do a full-scale fridge clean-out. Retrieve forgotten items from the back corners and discard products that are past their expiry date. To keep things organized in the future, put items in the same place every time – for example, sauces in the door, canned beverages on the middle shelf, and so on.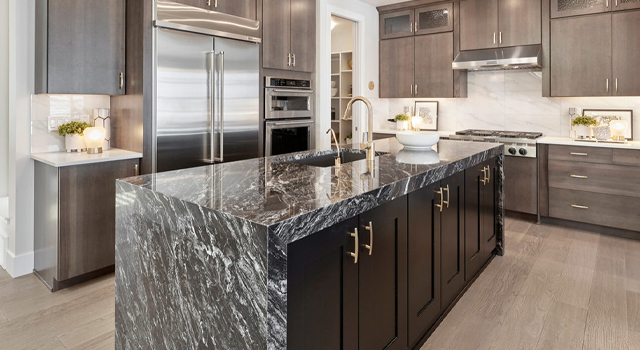 "Lauren" Showhome by Jayman BUILT in SummerWood, Sherwood Park
Bathroom
The bathroom is home to an array of personal care products that can quickly take over the limited space. Try these steps to stay on top of things:
Remove unused items from your cabinets and drawers. Think of it as a draft, where only the top "all star" products make the team. Check the labels on all medications, and take expired ones to your local pharmacy for safe disposal.
To free up space in the bathroom cupboards, store extra items in an alternate location such as a hallway closet.
Use a hanging caddy to organize the bathtub/shower area. Store kids' bath toys in a mesh bag or plastic colander to allow drainage.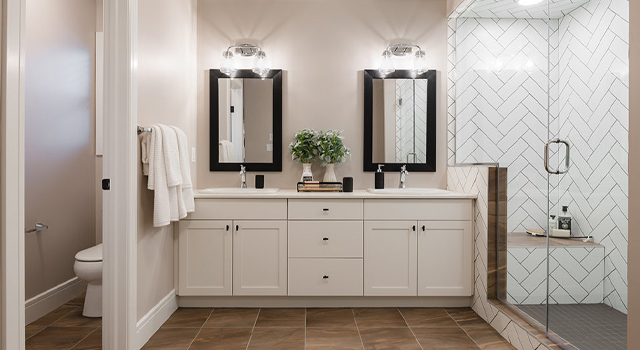 "Mackenzie" Showhome by Pacesetter Homes in Forest Ridge, Fort Sasakatchewan
Bedrooms
At the end of the day, a bedroom should be a peaceful sanctuary. Create a soothing, welcoming environment with the following steps:
Keep the room simple and uncluttered. If stray items from other rooms "migrate" to the bedrooms, take a few minutes and return them to their proper place.
Take a seasonal clothing inventory. Keep things that fit well and are worn regularly, and eliminate the ones that are just taking up space. Donate unwanted items to charity, or pass them along to a friend or relative.
Choose clever storage solutions that keep things "out of sight, out of mind," such as bedside tables with drawers and rolling under-bed boxes.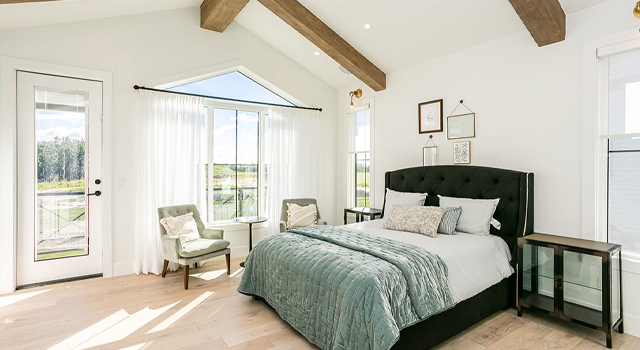 "Mirage III" Showhome by ART Homes in Meadowview, Leduc
Mudroom
This space is often a battle ground, the place where everything is dumped when we all enter the house. See if you can improve your setup with the following:
Have a designated area for each type of outerwear. For example, footwear is placed on a mat or boot tray, hats and mittens land in a basket or storage bench, and jackets go on hooks or hangers.

Store items up high that you don't need on a daily basis, such as out-of-season clothing. You can also use these shelves to display some decor, which will help the mudroom blend in with the style of your home.

Make sure there is a place in your mudroom where you can process mail as it comes into the home. Junk mail can end up cluttering dining room tables, coffee tables, and beyond if you don't have a specific system to organize it the moment it comes in the door.

Try an over-the-door storage hanger. This is a great way to add storage in tight spaces and helps keep items from being cluttered in a pile on the floor.
The prospect of getting organized can feel like a daunting task, but if you break it down room by room, you'll have a fresh start for the new year. Good luck!
"Madeline" Showhome by Pacesetter Homes in Cy Becker, Edmonton