Designing the interior of your new home can be simultaneously exciting and overwhelming. There is a seemingly endless array of options for colours, surfaces and finishes, but you don't have an infinite budget. How do you make design decisions that are beautiful, yet practical?
To answer your questions, we've brought in an expert. Chelsi Tellier is a Visual Merchandiser and Interior Designer with designQ, Qualico's exclusive interior design team. Below, she gives her best advice on how to save money as you create the ideal look and feel for your new home.

Qualico Communities: What services does designQ provide?
Chelsi: When a client purchases a new home with a Qualico home builder, we assist them in selecting the interior finishes. We also design the builders' Showhomes and create the colour palettes for all pre-determined models.
Qualico Communities: What specific parts of the home interior does designQ focus on?
Chelsi: We are here to help with everything that is attached to the inside of your home, such as flooring, cabinets, fixtures, paint and window coverings. To illustrate this further, imagine picking up your house, flipping it upside down and shaking it. Anything that doesn't fall out is our area of expertise!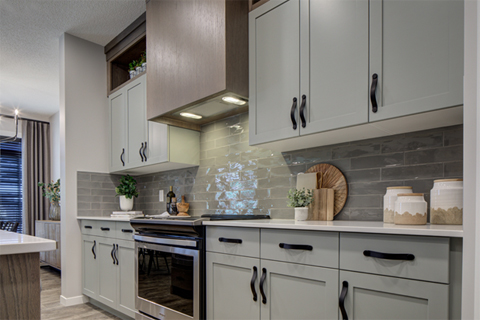 Qualico Communities: When making interior design choices, how can new homeowners make the most of their available budget?
Chelsi: We are grateful that our builders have included some great quality products within their included options, and we are confident that these will perform well over the years. New home buyers can maximize their design allowance by choosing elements that will effectively enhance a home's overall appearance. Here are some examples of design choices that can make a big visual impact but aren't high-cost:
Cabinet hardware is an easy and affordable upgrade that can completely transform the look of a kitchen. Think of it as the final touch, like jewelry with a nice outfit. For more ways to save on kitchen design, check out our designQ blog post and video.
Your interior and exterior door fixtures can also enhance the space in a simple and affordable way. Choose a shape, colour and finish that coordinates with the other elements in your home.
A feature wall can become a focal point or create a cozier feel in a room. Instead of applying a paint colour to the entire room, select a key wall to receive a complementary shade.

Qualico Communities: What about the long term? How can new homeowners make the right choices now, to save money later?
Chelsi: Here, the goal is to prevent costly replacements or renovations in the future. As wonderful as it might be to have custom cabinetry, hand-crafted tile, a built-in wine rack, or uniquely shaped windows, these will be more difficult and expensive to change later. Flooring is another major consideration – clients should always select the type of floor that is best suited to their lifestyle. For example, if you have pets or kids, choose a resilient surface like vinyl plank, for added durability and longevity.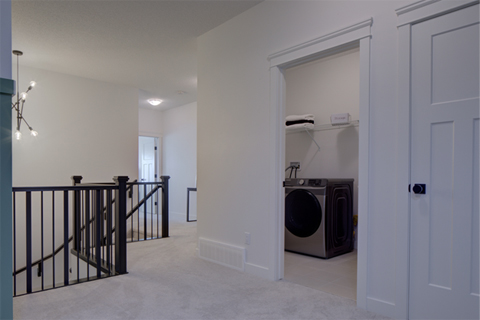 Qualico Communities: Is there a particular area where it is worthwhile to invest in a top-quality, higher-cost choice?
Chelsi: We find that the majority of our clients make the largest financial investment in their kitchen and cabinetry. When you think about it, the kitchen is the centre of the home – it's where you spend most of your time. The focus might be on the overall aesthetic of the kitchen (for example, a certain cabinet style, a particular layout, or a high-end countertop) or on smaller, ultra-functional upgrades such as soft-close drawers and extra storage for pots and pans.

Qualico Communities: How can new homeowners avoid the pitfall of design "fads" that may require updating in a few years when they're no longer in style?
Chelsi: I advise clients to select finishes and colours based on their personal preference, and to coordinate with their current furniture and accessories. I also suggest that clients include trendy colours in the non-permanent pieces of the home. Unless you're very confident in a vibrant colour choice and know you will enjoy it for years to come, I suggest going with a neutral colour and adding brighter tones in your accents. If you still want to include some on-trend styles, I recommend focusing on lighting or plumbing, as these can easily be switched out without a major renovation.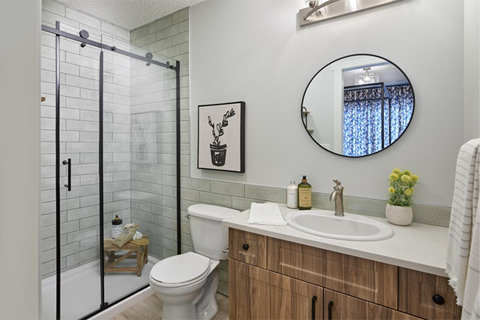 Qualico Communities: Are there areas where homeowners should defer big design choices until a later date?
Chelsi: Yes, particularly in the bedrooms, where the exact look and function of each room may not yet be known. We do offer feature paint options, but if you are unsure of the furniture that will be going in a space — for example, if it will become a nursery or child's bedroom in the future — those decisions can be made independently down the road.
Ultimately, creating the interior of your new home should be an enjoyable experience! Chelsi and the rest of the team at designQ feel passionately about design and are ready to help make your vision a reality. For more information about designQ, follow them on Instagram or visit designqedmonton.com.